Profile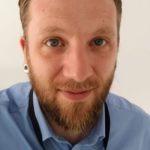 Ed Freshwater
Curriculum Vitae
Education:

BSc (hons) Mental Health Nursing – Birmingham

HND Music & Audio Technology (not relevant) – Glasgow

Advanced Diploma Music Management (not relevant) – Glasgow

Highers  in Maths, English, Physics, History, Modern Studies, German – Shetland

Workplace:

Perinatal Inreach/Outreach Team

The Barberry

Birmingham
About Me:

I'm a Registered Nurse (Mental Health) or RNMH.

I've been qualified since 2015, and I work in a community post with the Perinatal Mental Health Service in Birmingham – I do assessments and interventions for new and expectant mothers who are experiencing a mental illness.

Before that I was a student nurse, and before that I was a Healthcare Assistant in a medium-secure Forensic Child and Adolescent Mental Health Service, before that I worked in community rehabilitation in Aberdeen – all in all I've been working in mental health services for nearly ten years.

Now that all means I didn't start in this field until I was in my 30s – and it's been a real help to have had a broad life experience.

My Work:

I get referrals from GPs, Health Visitors, Midwives and other mental health professionals for women who are having a first experience of mental health problems, or have a pre-existing condition that is complicated by pregnancy and childbirth.

I will often be the woman's first contact with mental health services, so it's important I make a good impression! Our first meeting always depends on developing a "therapeutic relationship" – a way of understanding each other that allows me to have a positive effect on the person's mental health. I need to establish trust very quickly so that I can understand their thoughts, their situation and the social, economic and health concerns that affect them.

I also conduct interventions that use a number of therapeutic ideas to help people understand what is happening to them, how medicines could benefit, education and some self-management ideas to help make sense of their thoughts.

My Typical Day:

A lot of people will say there's no such things as a typical day; but every morning I check my messages, check my caseload, check my diary and then make a list of all the things I have to do that day.

Often I will have to communicate with other professionals to develop a plan and make sure that everything is taken care of – this is often more difficult than you would think!

An assessment will usually take about an hour, after which I write my notes, send letters to GPs and Health Visitors, if necessary make safeguarding referrals so everybody gets the help they need.

I also run groups where mums will come together to learn from each other, break down the stigma of mental illness and share their own experience.

Spending the Prize Money:

I would make a video of mental health nurses sharing what they do, how they do it and the difference it makes to people's lives. I'd share how important talking about mental health is, and let them know the qualities that mental health nurses rely on. And I'd send that video freely to every school, college and youth group.

Quick Fire Questions

How would you describe yourself in 3 words?

Dedicated

Compassionate

Sarcastic

What's your favourite food?

Anything with cheese on top.

What is the most fun thing you've done?

Sailed to Spitsbergen when I was sixteen.

What did you want to be after you left school?

Were you ever in trouble at school?

Only once, and it was a misunderstanding.

What's the best thing you've done in your career?

Talked people out of suicide.

What or who inspired you to do your job?

A whole bunch of really dedicated, compassionate, knowledgeable, supportive and vocal nurses from all different fields.

If you weren't in healthcare, what job would you do?

I really wish I could fly small planes in Canada.
---
---