Profile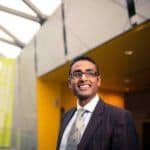 Neel Halder
Curriculum Vitae
Education:

Bury Grammar School followed by Manchester University for medical school.

Qualifications:

MB ChB, MRCPsych, MSc, CBT Cert (Distinction), CT Dip., Life coach Diploma (level 2), PG Cert. Med Ed., MBA

Work History:

Training in North West England mainly, followed by consultant in Cygnet hospital, and currently working for NHS.

Workplace:

Greater Manchester Mental Health NHS Trust
About Me:

I'm an ambitious person who likes to say 'Yes' to whatever opportunities come my way which has led to a varied an interesting life so far!

The most important people in my life are my wife and my daughter Isabella who came into our life in 2018. This means that sleep is a highly valued and increasingly rare commodity in our household. I have a cat called Wilby who is extremely jealous of our baby and has taken to sleeping in her pram as a protest.

I am a big believer in family and my wife and I celebrate 'Valentines day' on the 14th of every month (much to the annoyance of my friends).

I chose psychiatry as a career partly because of the excellent facility for flexible working which means I have a pretty good work/life balance. In my spare time I play badminton, the piano (very badly), enjoy yoga and eating out (Thai food being my favourite). I enjoy charity work and am an Ambassador for a charity called Lifefit which promotes mental health wellbeing primarily for men, and I'm also a trustee at Home cafe in Didsbury which is a charity the believes in giving back to the community, and providing free food and shelter for the homeless.

My Work:

I have been fortunate in that I have varied and interesting working roles. In my day-today role I am a consultant psychiatrist with experience in both the NHS and private sectors. I am due to start a new post as a clinical director in a brain injury and autism unit.

I have had specialist training in learning disabilities and have spent several years working with people who are deaf (I have been trained in Births Sign Language).

I am currently the recruitment lead for the Royal College of Psychiatrists (North west). I have been the psychiatrist for the Manchester Evening News and have spent a few years working with the media to promote positive mental health stories. I have been the head of research previously and am on the editorial boards of a Royal College journal and also the British Journal of Forensic Practice.

My main passion is helping those new to medical research obtain publications and have published a book in that area. I am also a Senior Honorary Lecturer for Manchester University, and I interview students that apply to medical school, as well being an examiner and tutor.

My Typical Day:

I wake up at 7am and help with feeding and changing my baby before I feed and change myself. I spend my commute to work listening to inspiration podcasts such as TED talks. Once I'm at work, I have an open door policy which means anyone can come in to my room to ask my anything.

I check my emails twice a day- only at the beginning and end of the day. Inbetween I will spend time on the ward for a handover in the morning followed by any ward related jobs and seeing patients. I would then spend time liaising with my team and supporting and supervising my junior doctor. I have ward round once a week and CPA or tribunal meetings on as needed. I have time to attend CPD events and teach at the university and on my unit. I also make time for a short 15 minute walk at least once during the day to refresh myself.

Before I go home I make sure all the jobs are done for the day and all emails and checks and actioned. I hate leaving things for the next day. This means I can switch off when I get home. As a rule, I don't check my work emails outside of work (and certainly not on holiday). It is difficult to give a 'typical' day at work as everyday is varied, rich and rewarding in its own right.

Spending the Prize Money:

I would use it to hold an event promoting the richness, flexibility and intellectually stimulating aspects of a career in psychiatry. I believe in a grounds up approach and would ask students themselves for ideas on how and what they would like to see in this event and plan it accordingly.
Quick Fire Questions

How would you describe yourself in 3 words?

<div dir="ltr"> <div dir="ltr"> <div> <div>Caring, driven and patient</div> </div> </div> </div>

What's your favourite food?

What is the most fun thing you've done?

Jumped off a cliff in the Swiss Alps and parachuted down

What did you want to be after you left school?

Initially an astronaut (my cousin lives in Houston, Texas and has friends' fathers and mothers who are astronauts) but my parents told me my head was in the clouds (no pun intended)

Were you ever in trouble at school?

I once got Saturday detention for playing cards with money (I bet 2 pence on a game!)

What's the best thing you've done in your career?

Apart from helping patients, I loved completing a medical education degree and won first prize in an international conference with my colleges on a education research project. The prize was handed over by Dame Esther Rantzen who I had grown up watching on TV.

What or who inspired you to do your job?

I met Mother Theresa at her home in Calcutta when I was at school, and she asked me to be in a profession where I could help others, so I've always wanted to be a doctor after that.

If you weren't in healthcare, what job would you do?

I love the idea of owning a restaurant or bar. I've completed a MBA so would like to put my business knowledge to good use.
My profile link:
https://mentalhealthj19.imamedic.uk/profile/neelhalder/
---
---
---