Profile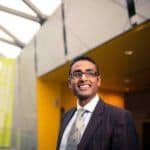 Neel Halder
Curriculum Vitae
Education:

Bury Grammar School followed by Manchester University for medical school.

Qualifications:

MB ChB, MRCPsych, MSc, CBT Cert (Distinction), CT Dip., Life coach Diploma (level 2), PG Cert. Med Ed., MBA

Work History:

Training in North West England mainly, followed by consultant in Cygnet hospital, and currently working for NHS.

Workplace:

Greater Manchester Mental Health NHS Trust
Spending the Prize Money:

I would use it to hold an event promoting the richness, flexibility and intellectually stimulating aspects of a career in psychiatry. I believe in a grounds up approach and would ask students themselves for ideas on how and what they would like to see in this event and plan it accordingly.
Quick Fire Questions

How would you describe yourself in 3 words?

<div dir="ltr"> <div dir="ltr"> <div> <div>Caring, driven and patient</div> </div> </div> </div>

What's your favourite food?

What is the most fun thing you've done?

Jumped off a cliff in the Swiss Alps and parachuted down

What did you want to be after you left school?

Initially an astronaut (my cousin lives in Houston, Texas and has friends' fathers and mothers who are astronauts) but my parents told me my head was in the clouds (no pun intended)

Were you ever in trouble at school?

I once got Saturday detention for playing cards with money (I bet 2 pence on a game!)

What's the best thing you've done in your career?

Apart from helping patients, I loved completing a medical education degree and won first prize in an international conference with my colleges on a education research project. The prize was handed over by Dame Esther Rantzen who I had grown up watching on TV.

What or who inspired you to do your job?

I met Mother Theresa at her home in Calcutta when I was at school, and she asked me to be in a profession where I could help others, so I've always wanted to be a doctor after that.

If you weren't in healthcare, what job would you do?

I love the idea of owning a restaurant or bar. I've completed a MBA so would like to put my business knowledge to good use.
My profile link:
https://mentalhealthj19.imamedic.uk/profile/neelhalder/
---
---
---